ORS acquires specialist fire safety consultancy based in Waterford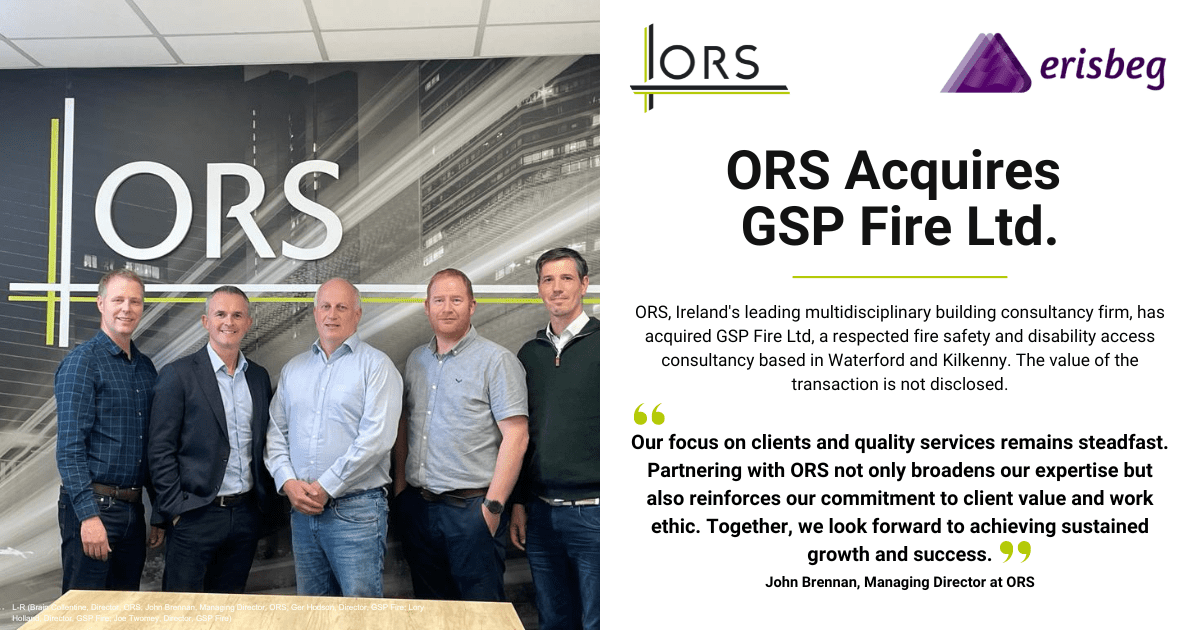 Acquisition follows investment by Erisbeg private equity in ORS in January last.
ORS, Ireland's leading multidisciplinary building consultancy firm, has acquired GSP Fire Ltd, a respected fire safety and disability access consultancy based in Waterford and Kilkenny. The value of the transaction is not disclosed. GSP Fire employs 12 people and is well-established.
In January of this year, one of the country's leading Private Equity businesses, Erisbeg acquired a majority stake in ORS. Erisbeg is currently deploying a €110 million investment fund targeted on Irish businesses with significant growth potential. Erisbeg provides follow-on finance to enable investee companies complete their own acquisitions to support their growth ambitions.
Following the deal, ORS will gradually assume operational control of GSP Fire. The emphasis is on creating a seamless integration process that maintains stability and fosters collaboration, benefiting employees and clients from both entities.
John Brennan, Managing Director of ORS said:" This collaboration strengthens our capabilities, diversifies our offerings, and generates new opportunities for our teams and clients alike."
"The alignment of ORS's multidisciplinary services with GSP Fire's fire safety expertise positions the company to provide comprehensive solutions that meet evolving industry demands."
Ger Hodson, Director of GSP Fire, said, "Our focus on clients and quality services remains steadfast. Partnering with ORS not only broadens our expertise but also reinforces our commitment to client value and work ethic. Together, we look forward to achieving sustained growth and success."
During the transition, ORS and GSP Fire will ensure uninterrupted services for existing clients.
This acquisition underscores ORS's dedication to nurturing talent and driving innovation. It reflects ORS's mission to offer cutting-edge solutions and strengthen its position as a market leader.