Renewable Energy Project Management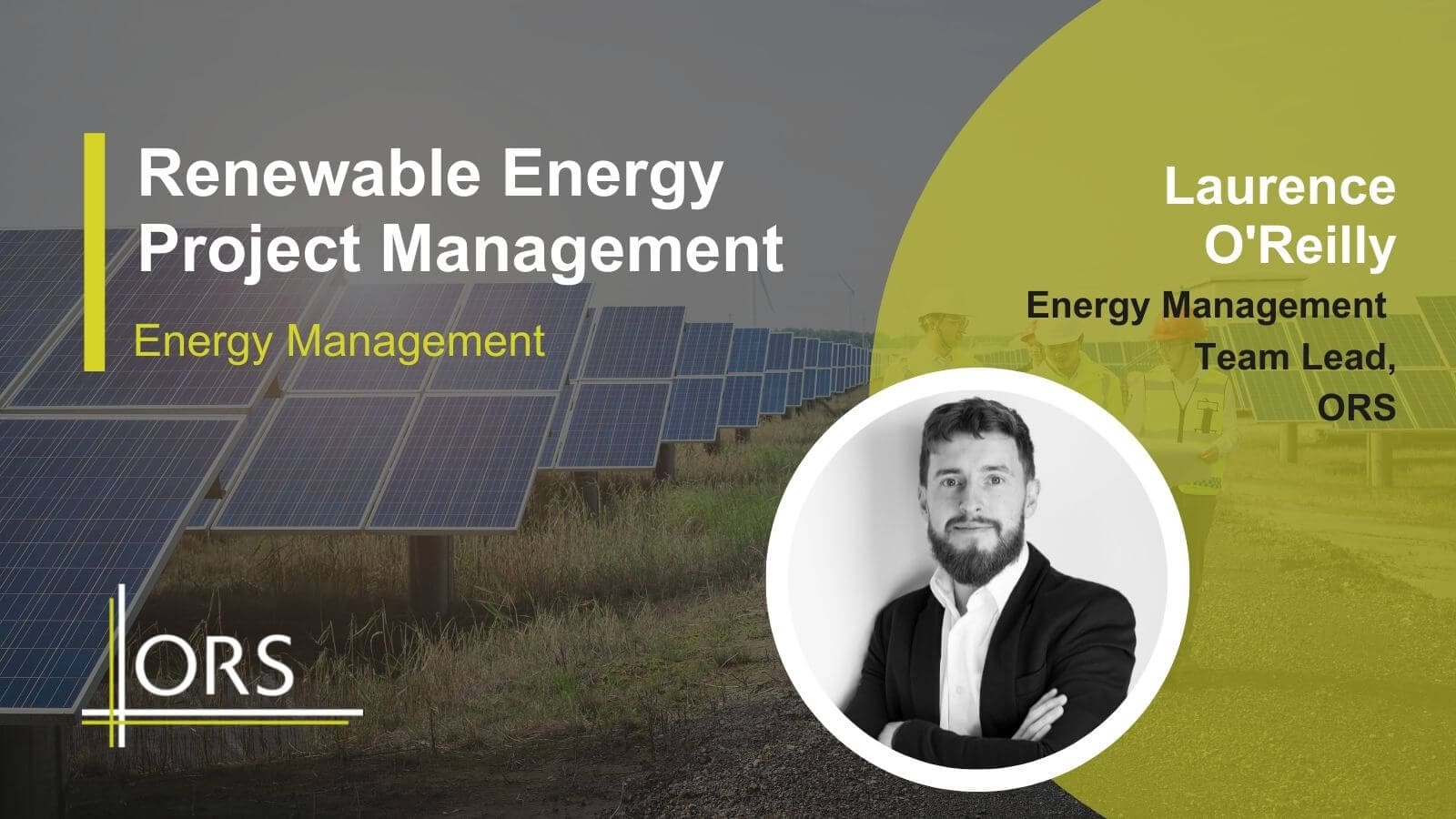 As energy users become more energy-efficient and reduce energy demand, the next steps in mitigating reliance on fossil fuels are identifying and implementing appropriate and site-specific renewable energy technologies. Renewable energy technologies allow homeowners, SMEs, public-owned buildings, and large industrial plants and public sector organisations to generate electricity, consume it onsite, improve self-sufficiency, and reduce energy bills. These steps will significantly contribute to achieving national climate action targets and reduce pressure from the main electrical grid.
There are many different types of renewable systems. However, the most common in Ireland are solar photovoltaic and wind energy. For many buildings, sufficient space can be identified to facilitate a series of solar photovoltaic panels. Similarly, a site may have suitable natural resources and space for a small-scale wind turbine.
ORS has managed numerous renewable energy projects across Ireland, including bioenergy, hydro, solar and wind. ORS provides clients with bespoke, turnkey services in all aspects of renewable energy projects that benefit from our multidisciplinary team. The identification, initial design and development of renewable energy technologies can be carried out in several ways.
Specific to Sustainable Energy Communities, this study seeks to develop a strategic roadmap for decarbonising a village, town, or region. An Energy Master Plan will review the existing energy and carbon profile for a region and develop a series of opportunities to improve sustainability. This includes behavioural changes, domestic and non-domestic retrofits, sustainable transport alongside renewable energy technologies. An EMP can be a useful tool for identifying what natural energy resources are appropriate to a location, ranging from rooftop solar to solar and wind farms, hydro to bioenergy.
A feasibility study is complete once a specific renewable technology has been chosen. The purpose of the study is to investigate a select technology on a particular site. The study will highlight any site-specific issues that may impact the viability of a project and present the expected annual yield concerning energy generated and cost savings. A feasibility study is considered best practice before advancing with such projects as it will identify a conceptual design, highlight installation costs alongside the respective components and electrical furniture that may be required to facilitate the effective function of the system.
Energy Project Management
The project management involved in delivering a renewable energy project is a critical aspect of its delivery. This involves expert support in the design, planning, tender, H&S and completion of the project.
Community Engagement & Consultation
Depending on the nature and scale of the renewable energy system, community engagement and consultation may be required to support the communication of the positive impacts of a system. This involves liaising directly with the community, hosting workshops explaining the benefits and functionality of the system. Community-led and owned renewable energy generation sites are critical to Ireland's overall Climate Action Plan, with specific resources available to help these groups.
ORS has extensive experience in various energy projects and all associated management aspects from concept to completion. By incorporating specific supporting software, our team of consultants can accurately design and quantify the performance of a proposed system, allowing a guided decision on investment. We are also adept at liaising with all relevant parties to ensure programmes are expertly controlled and efficiently managed, ensuring all stakeholders are included.


ORS recently project managed the Solar PV installation for Kildare County Council headquarters in Naas, Kildare. The role of ORS in this project was to project manage the design, tender, and construction stage of the installation.
Working with Kildare County Council, ORS provided energy advisory services. A core deliverable is to support the Local Authority in identifying effective, sustainable solutions to help reduce fossil fuel reliance. With electricity, a primary source of energy use, the concept of implementing renewable energy technologies was considered. This began with the initial feasibility, developing into a business case. Critical capital funding was identified and secured, and a suitable contractor was appointed through the public tendering process.
In summary, a 73.44 kWp solar photovoltaic system was installed on the roof of the main County Hall building, consisting of 272 PV modules. The system generates almost 60,000 kWh's of electricity per year, providing over 15% of the buildings total electricity use. This results in financial savings of approximately €15,000 each year, with a payback period of circa 4 years.

Get in touch with our energy team at info@ors.ie if you would like to find more about our services.