U.N Climate Change Summit 2019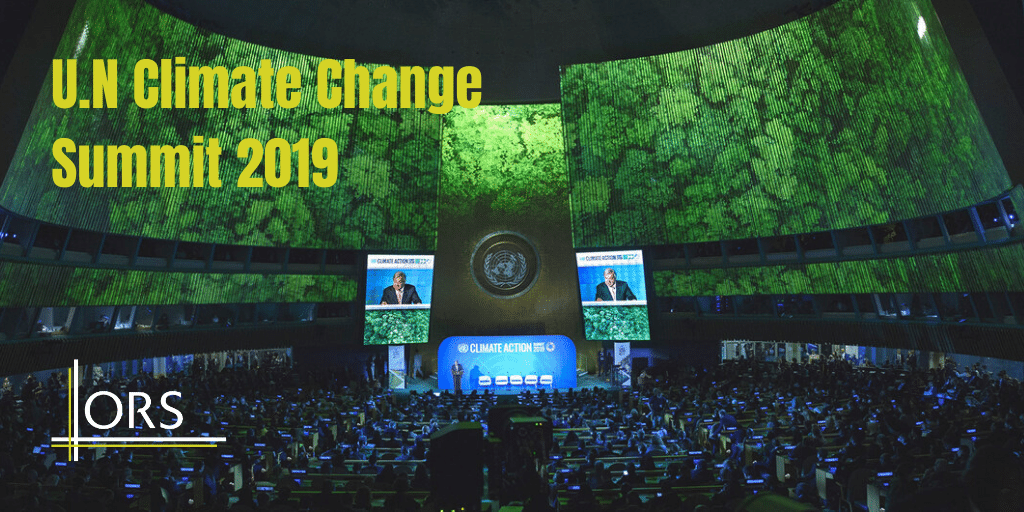 U.N Climate Change Summit 2019
Some 40 years ago, the first World Climate Conference was organised by a committee chaired by Robert M. White, an American meteorologist from the USA. Negotiations on several disciplines like agriculture, energy, environment and ecology to name a few were discussed by 350 specialists from 53 countries, along with numerous international organisations.
At the end of the second week, 350 specialists were narrowed down to 100. These 100 specialists issued a World Climate Conference Declaration to appeal to nations:
"To take full advantage of man's present knowledge of climate;

To take steps to improve significantly that knowledge;

To foresee and prevent potential man-made changes in climate that might be adverse to the well-being of humanity."
In 2019, some four decades on, to step up actions to reinforce the Paris Agreement on Climate Change, UN Secretary-General António Guterres invited leaders, from government and business, to come to the 2019 Climate Action Summit with full intentions to tackle the global climate emergency. In this agreement, countries had to pledge to meet their specific climate change plans, also known as NDC's (nationally determined contributions). Debate around these NDC's took centre stage at the summit. However, did the U.N Climate Change Summit meets its potential?
What did we learn from the U.N Climate Change Summit 2019?
Little leadership from the large economies! The United States, India and China offered little hope that they would improve their pledge to reduce their emissions. In an event, designed to specifically achieve this goal, these three powerhouse economies offered little guidance for others to meet the agreement to commit by 2020 to more aggressive climate plans. However, The most disappointing news was that Donald Trump will relinquish the U.S's involvement with the Paris Agreement and having no influence or involvement in the limiting of these gases.
Renewable energy: Although, both China and India made no commitment to reduce their reliance on coal by 2020, they did state that they would increase their production of renewable energy going forward. Indian Prime Minister Narendra Modi assured their capacity of 175 gigawatts of renewable would rise to 450 gigawatts by 2022.
Sustainable Cities: It was announced at the summit, that major finance benefits would be available for cities to invest in the sustainable urban areas we need to hinder climate change. The plan Leadership of Urban Climate Investments (LUCI), will quickly set the pace up and leverage for city authorities to build climate friendly urban infrastructure. Led by Germany, LUCI was developed with the help of the governments of France, United Kingdom, Mexico, Luxembourg, Cameroon and Japan. Other key allies include developer banks and city networks. The initiative aims to empower over 2,000 cities with preparation for this plan by 2030, placing climate risk at the centre of decision making, planning, and investments around such infrastructure. Over €70 million in grants have been pledged already for the implementation of LUCI, with most of the funds targeting early-stage project support.
So… Ireland: Taoiseach, Leo Varadkar promised major improvements in how we will power our nation in the coming 30 years. In a statement at the U.N Summit, Varadkar reminisced how our country has always been associated with the colour green, and he wants, in the future, for Ireland to be associated with being a green country because of how we as a nation respond to the climate and environmental challenges facing our planet.
Some of the key changes planned….
"Our renewable electricity will rise from 30 per cent today to 70 per cent in 10 years. By 2030, we will have prohibited the sale of new petrol and diesel vehicles. By then we will have substantially electrified our fleet. All new public buses bought from now are hybrids."
All revenue generated from carbon tax will be redistributed into a climate change action fund. A large proportion of this fund will be invested into the creation of jobs for those currently employed in positions that are heavily reliant and linked to unrenewable sources of energy.
440 million trees will be planted in Ireland by 2030.
Retrofitting homes with insulation to B2 equivalent Building Energy Rating (BER) and replacing oil/solid-fuel boilers with heat pumps.
What can you do to help?
While government bodies need to make big changes – us as individuals can play a role too. Scientists say we all must make "rapid, far-reaching and unprecedented changes" to our lifestyles, in order to avoid severely damaging climate change.
A simple start is to eat less meat and buy more locally sourced seasonal food – and throw less of it away! We should drive electric cars, walk or cycle short distances; take trains and buses instead of planes; use more videoconferencing instead of business travel; use a washing line instead of a tumble dryer; insulate homes; demand low carbon in every consumer product.
Support and get involved with local communities in their transition to a low carbon future.
ORS has developed a strong energy management team with a proven track record in energy savings for both the public and private sectors in Ireland. Leadership is essential in encouraging all energy users to think and act differently.