TGD-B 2020 – Tweaked for open plan living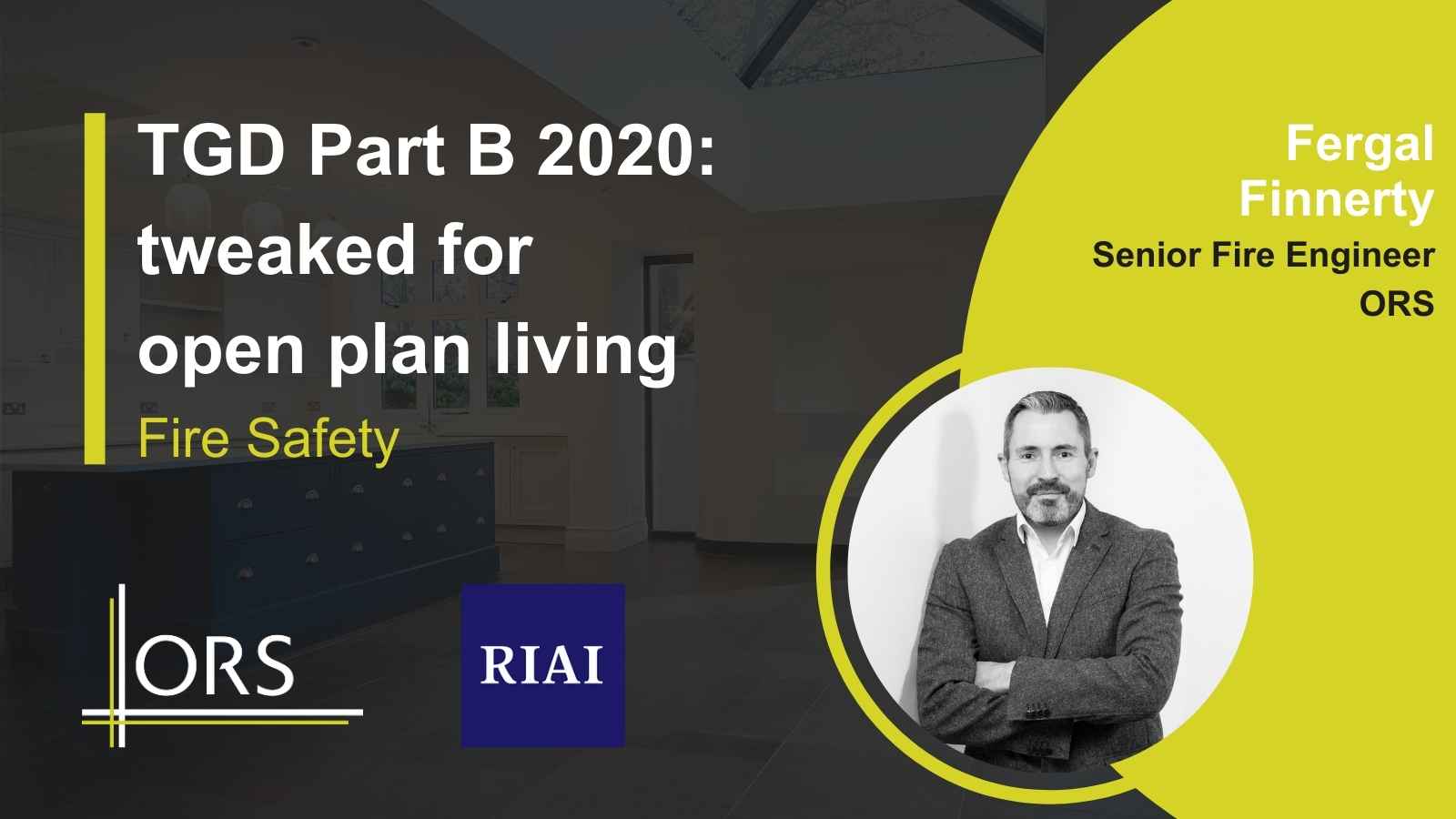 In July 2020 a new revision to Technical Guidance Document B (TGD-B) came into force, the first significant amendment to the code since 2006 (except for the publication of the separate volume 2 for 'Dwelling Houses' in 2017). The amendment is titled 'Reprinted Editions 2020 Amendments & Corrections Incorporated', and the edits relate primarily to buildings containing flats, in particular open-plan flats.
The guidance came into effect on 1st July 2020 for design of works, or material change of use etc, except for certain limited scenarios, including among others where:
A planning application was made on/ before 30th June 2020, or
a Fire Safety Certificate has been granted on or before 30th June 2020,
…and where substantial work is completed before 30th June 2023
Among the early amendments, a new subsection discusses 'Tall and Complex buildings containing Flats'; however, no significant additional specifications are included, and reference is made to pre-existing paragraphs facilitating fire safety engineering approaches.
In addition to clarifications in respect of common fire alarm systems, and the provision of disabled refuge spaces, in buildings containing flats, the main changes in this code are the addition of new subsections in Section B1 (Means of escape), as follows:

1.6 Open Plan Flats
Open plan flats were previously permitted with restricted travel distance (max. 9m without alternate escape).  The new code offers more flexibility for designers with travel distances up to 20m permitted when the following provisions apply:
sprinkler system (domestic grade) to be provided,
only single storey flat permitted (not duplex),
increased specification fire detection and alarm within the flat, and
kitchen separated by 1.8m distance, or wall construction, from the escape route.
'1.7 Protected Corridors/ Lobbies Serving all Flats'
This new section offers extended travel distances in common corridors to flats in buildings/ parts served by a single stair. Up to 15m dead-end travel is now available from the storey exit (stairway) to the flat entrance door, albeit that this will require sprinkler systems (domestic grade) in all flats on the storey. The section also provides guidance around smoke control systems and natural smoke shafts.
'1.8 Domestic Sprinkler Systems'
The new code provides relaxations where domestic grade sprinkler systems are provided.  This this new section outlines the performance requirements, including relevant standard (BS 9251), minimum duration (30 minutes), on-site water storage not less than 3m3 etc.
Finally, an amended Diagram 33 for Section B5 clarifies that fire-fighting lobby must be provided to fire-fighting stairs (for very tall buildings, more than 20m above ground level)
Commentary
In TGD-B (2006) the reader was directed to BS 5588-1 (1990) for guidance in respect of residential buildings. This BS code was withdrawn by the BSI in 2011 and replaced with BS 9991, a new code, yet BS 5588-1 was still referenced in TGD-B. BS 9991 contained advancements in fire safety design guidance, particularly in respect of the benefits of sprinkler protection to open plan flats. Since 2011 there has been ambiguity in Ireland as to whether BS 9991 could or should be used in lieu of BS 5588-1. 'Cherry picking' from different codes is frowned upon, so consensus in many circles was that either BS 5588-1 or BS 9991 should be used.
The Grenfell Tower fire occurred on 14th June 2017 resulting in 72 deaths. In the public inquiry, chair Sir Martin Moore-Bick last year criticised the Fire Service watch manager for failing to consider an evacuation sooner saying that 'fewer people would have died' if the 'stay put' policy had been lifted.  He directed Fire and Rescue services to draw-up contingency plans for total or partial evacuations when dealing with fires in high-rise single-stair buildings.
In 2019 a 'Regulatory Impact Assessment' report by the Department of Housing & Planning in Ireland examined the matter of the withdrawal of the BS 5588-1 code and the impact on TGD-B. They highlighted the fact that BS 9991 'is heavily, and explicitly predicated on a stay-put fire safety strategy'. As a result, they recommended extracting sections relating to open-plan flats from the BS 9991 and inserting them into a revised/amended TGD-B.
There are important distinctions between the reasons for 'stay put' policy and immediate mass evacuation in high-rise single stair buildings, as distinct from moderate height buildings with multiple stairs. The BS 9991 code includes recommendations that 'there will be some occasions where operational conditions are such that the occupants of the building will need to use the common stair, sometimes whilst fire-fighting is in progress. As such the measures in for the protection of common stairs are designed to ensure that they remain available for use over an extended period."
In respect of multiple stair buildings, the BS 9991 code contains very similar guidance to the BS 5588-1 code, yet is 'tweaked' in certain important areas.  For example, both use very similar drawings and specifications for 'Common escape routes in balcony/ deck approach buildings', yet the newer BS 9991 code contains more onerous specifications e.g. all parts of the building should be within 45m of a firemain, as opposed to 60m in the BS 5588-1 code… which is still referenced by TGD-B (2020).
While clarity in respect of the sprinkler provisions for open plan flats is welcome, the fact that only certain sections of code have been selected from BS 9991 means that the reader is directed back to the BS 5588-1 code, which is still referenced. It remains to be seen how designers and the Irish Fire Authorities deal with the other residential building types that were not lucky enough to have been plucked from BS 9991.
See if you can spot the difference!…

If you would like to discuss Fire Safety requirements for your project, please get in touch with Rory Walsh from the ORS Fire Safety Team.